Amanda S:
I was surprised. But yet again 2016 delivers with another great and terrifying movie. This movie was genius, the plot was great and it all wrapped up in the end. But this movie. Is the only horror movie to ever make me paranoid and kind of scared to turn the lights out. I was amazed. Easily a 5 star movie. I loved it. Props to everyone in this movie and the director cause they all helped deliver one of the scariest movies I've EVER seen.
JoyceLouis:
Great scary movie, another classic story that is sufficiently creepy with a dysfunctional family that learns to work together... To an extent. Loved the conjuring, haven't seen the second, but very comparable due to the fact it's not just a typical normal family that gets haunted. Great story telling and character development, and not to mention the "ghost" is creepy as hell. Made me jump a couple times which says a lot since I never really get too bothered anymore by scary flicks. Overall great movie for horror fans and even the casual movie fan, love these horror movies recently!!
Patricia D:
Lights Out has an interesting creepy concept that could have worked really well in being the scariest film. The relatable idea of seeing something in the shadows or a mysterious figure when you shut the lights off and it coming closer every single time, the lights go out. Definitely scary things to even think about. Not sure, if the idea was based on that one popular horror youtube video, of a person seeing a ghostly figure in the dark and disappear when lights are on. Then, there was a comical version of teens catching the ghostly figure and beating it to the ground.
Lights Out utilizes the concept very well; by making us fear the dark, and showing a new supernatural horror film that could have been a little scarier. Lights Out plot does try to reveal a little bit of a backstory as much as they can about Rebecca (Teresa Palmer) family, after losing her father from an attack in a dark warehouse. Her mother Sophie (Maria Bello) is mentally unstable, has been in an institute. Her brother Martin (Gabriel Bateman) has been frightened by the mother's experiences with keeping everything in the house dark and her mysterious actions. Without giving much spoilers. There is a mysterious ghostly figure that only appears in the dark, that has sharp long fingers and glowing eyes that is haunting the family.
From the opening sequence in the warehouse, a character noticing a strange figure in the shadows and tries to stay in the remaining lights. These sequences can be scary and intense. There are a few of these sequences, when these moments happen. Otherwise, when the movie slows down, it can be slow and boring. There is a backstory that does leave a chilling feel about the monstrous figure. Characters hear scratching mysterious noise on the other side of the doors, or worry about a light flickering or something appearing around the corridor or above the doorway. First time director David F. Sandberg does create a haunting direction and does it well, except for when the movie slows down to build around the family drama about Rebecca having conflict of trying to help her insane mother. When, the climax and everything builds up, when Rebecca and her brother are trying to escape the house with the dark figure chasing them, which can be intense. Lights Out is a fair horror film, with some worthy thrills and scares every now and then, but does slow down quite a lot and get tedious really fast.
Heather P:
Okay, so maybe I am a little biased, since I worked on the film "Lights Out" as the art director, but this movie still held many scares for me. In fact, it was freaky when I read the screenplay; it was creepy watching them shoot it; it was particularly unnerving when I'd find myself alone on that set (and I helped make it!). My point is, I knew everything there was about what was going to happen, even went through the lunch line everyday with the creature -- but when the theater lights dimmed, and the picture rolled, I STILL had sufficiently fun frights watching this film in the theater.
Great directing, splendid acting, inspired production design (please hire me again Jennifer Spence), and masterful cinematography, combine to create a fun and thoughtful film that rises above the usual tropes of the horror genre. That's not a bunch of studio butt kissing either. I've worked on a lot of horror pictures, none of them scared me in the least when I watched them (even when they were good, well made films). This one is different.
Do yourself a favor, Watch Lights Out online, bring an extra pair of underwear (just in case), and when you alone at home . . . be sure to leave all the lights on.
Liam P:
Smart, stylish, beautifully filmed, original, etc. - all of those could describe "Lights Out" but a better description might be one of the best horror films of all time. Everything works here and perhaps one of the most impressive aspects is Teresa Palmer, she's beautiful yet vulnerable. I would love to see her in more films especially in great films like this. I thought she did an amazing job here as did the entire cast and crew. All benefit from the smart script but it's clear this has James Wan's fingerprints all over this. If Sandberg, the film's very talented director, can display this kind of talent outside of James Wan's influence, then look out. We might have one of the best directors for horror films since James Wan himself and even, Wes Craven.
Oops, Currently Lights Out (2016) movie subtitle is available for registered members only.
Create Free account & download unlimited subtitles and movies.
Latest 'Lights Out (2016)' News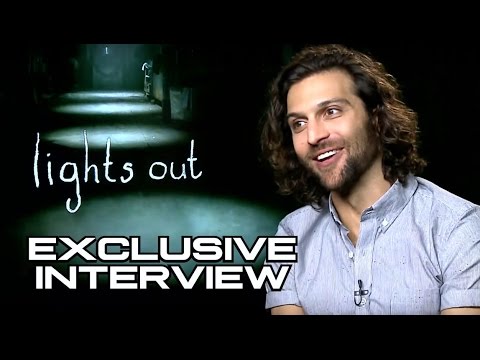 Lights Out is a 2016 horror film based on the short video with the same name. It is directed by the same mastermind behind the beloved indie project and produced by famed horror director, James Wan who directed The Conjuring 2 earlier this year. It centers on the struggle between a little boy and his […]